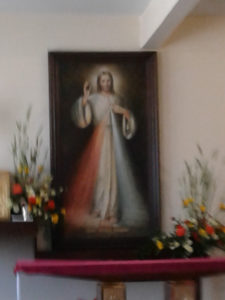 Witaj Pilgrim,
Here is a nice excursion we like to make from Warsaw featuring Niepokolanów of Maxmilian Kolbe and Divine Mercy (Sisters of Congregation of Mercy) communities in Plock and Swinice Warkie (Głogowiec).
Nepokolanów (Immaculata) is the Franciscan monastery Kolbe founded before WW2. The charism is evangelization, in particular also Devotion to Mary. The Marians also preserved the Divine Mercy message given to Faustina during some very hard times. Here you will see Maximilian's original cell,the original monastery, now a chapel, fire equipment, since the brothers have long served as the volunteer fire department for nearby town. There is also a collection of fire equipment, including horse drawn and the "Popemobile" John Paul II used in 1979, "the "9 days that changed the World". The vehicle is a Lamborghini with a hole cut in the roof and a chair welded where the back seat used to be, so the Pope could stand with his head through the roof and greet the teeming crowds.
There is a very interesting museum about Kolbe and the Order's work. They print huge numbers of religious pamphlets in multiple languages, and some of the equipment is very primitive. There is a display of their mission in Hiroshima Japan. Kolbe visited there to review plans for building a monastery. He told them to move the location behind a nearby mountain, which they did. They were saved from injury during the A-bombing, and the monastery served as a hospital.
The church is simple but very peaceful and beautiful. The Brothers hid some 2,800 Jews here during WW2, even as Maximilian was hauled away, eventually to Auschwitz. (You know the story).
A new 24/7 Eucharistic Adoration Chapel is a highlight.
On some pilgrimages featuring St. Maximilian Kolbe we also go to Zdunka Wola, his birthplace. His family lived in 1 room of a 4-plex, board and batten apartment and his father had his tailor equipment in there as well. Parents and Maximilian (Raymond)'s older brother shared a bed and baby Raymond a cradle next to it. Later they moved to ŁÓDŻ.
Their apartment is now refurbished as a museum, but there are other weathered 4-plex homes up the street that show you how they lived.
The Franciscans have a very nice retreat center here, serving Polish teens. On a recent trip a band of 4 Brothers were rehearsing music and gave me a DVD of their work.
There is an outstanding Milk Bar on the main street of Zdunka Wola, and if you don't know about milk bars, you should research before traveling to Poland. (They are where you meet interesting people and authentic food).
A few miles from Niepokolanów is the twin village of Swinice Warkie and Głogowiec, the former locates the church where Faustina was baptized, the latter, the tiny home she lived in as a child. At this writing, they are refurbishing the church and it is inaccessible to pilgrims, there is a modern chapel there, but not really associated with Faustina. When we go here, we like to arrive at lunchtime, buy some produce from farmers' wagons by the road, an ad hoc market, some soft drinks from the Sisters at the parish school and have a picnic under some nice shade trees.
Płock has a long history, formerly the capital city of the Region that also includes Warsaw, located on a high bank overlooking the Wisła river, a genuine photo opportunity, a beautiful old Cathedral where a number of famed Poles are entombed beneath the stone floor, a picturesque main street leading to a park overlooking the river.
Płock is where Sister Faustina was first told by Jesus to "Paint what you see" and she demurred, believing herself unworthy. There is a small community of Sisters today in Płock and others of the community live at a working vegetable farm outside the city. The Congregation of Mercy continues its original mission of serving women who want to change their lives, and telling the world about Divine Mercy is a co-mission for them since Faustina.
Faustina's room in the original convent was destroyed by a German bomb which took out one entire wing. So, when I first visited here in 2011, there was only a tiny plaque in a dirt lot saying this is where she was visited by Jesus and the story you know.
When Sister Weronika transferred from an assignment in US (Boston) she had a grand vision. Build a retreat center on the spot where Faustina saw the vision, My last visit a year ago, it was well under way, but they pay for construction only as they receive donations, so the timeline is up to God's providence. The retreat facilities, meeting rooms, etc had completed rough construction and were being finished out. There are also future plans for a Pilgrims House.
When you visit, you will see three icons of Divine Mercy. One was painted in Vilnius, but disappeared for several years, so, another then commissioned by the Sisters in Kraków which is the most often seem icon and now, the Płock image.
The parishioners in Płock wanted to finish the job, I guess, anyway they painted a third image and on June 6, 1991 they were visited by Pope John Paul II who dedicated it. It is often said, the Vilnius image is "THE" original. That's not quite accurate. Each of these is  an original, based strictly on Faustina's accounts, none is a copy.
Jesus said, the important thing is the message "Jesu Ufam Tobie" – Jesus I Trust in You.
On one pilgrimage, literally an hour before my ride arrived a got a cll from Fr. Francis Joseph of Franciscans of the Holy Spirit who serve the Grand Canyon University Newman Center in Phoenix (among many diverse evangelical ministries). Hr wanted a Relic of Faustina for the new Student Chapel (Another story) and, by the way, a Divine Mercy icon. Painted. On Canvas. And, a particular size.
I arrived on June 6 (anniversary of the icon's Dedication by JP2) and first learned the third image even existed, took a picture and shared it with Fr. His response "Perfect". This Jesus appears slightly younger than the other images, and less facial hair. Sister Weronika said she would have to order it printed (real paint, but not a brush stroke at a time) and ship it to us in Arizona. I mentioned we would be in Warsaw (50 miles away) for two more days. The next morning, a young Sister appeared and delivered it to us at the Warsaw convent where we were staying.
There is a "Window of Life" here where mothers can leave newborns for adoption. Several of the 3o+ Congregations of Sisters of Mercy have this opportunity.