Warsaw – City of Surprises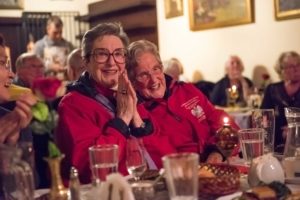 Witaj Pilgrim!
As you know Living Kraków has cancelled all our group pilgrimages for 2020 and our next will be in June 2021.
We're adding to our newsletter service to feature reminiscences of past pilgrimages in Poland so when we are all safe to go, you will additional background to enrich your own experiences. This is the first of a series offering background glimpses of points of interest.
Warsaw – City of Surprises.
Warsaw was virtually destroyed by the Germans in World War II, culminated by the Warsaw uprising by her citizens, encouraged by supposed ally, Russia, who promised to send troops in support, but instead stopped at the opposite bank of the Wisła River and watched as 300,000 Poles were killed and virtually all buildings reduced to rubble.
Architecturally, Warsaw today can be viewed as three phases 1) Restoration. Important parts of the "Old City" were faithfully restored from photographs and original plans. These buildings are prominent in Old Town 2) Soviet. Under Communist government, controlled by Moscow, many communist style apartments were built, drab, small living space, grey. Also, a prominent building in the Warsaw skyline, Stalin's "gift", The Palace of Science and Culture. For many years, this building was resented and ridiculed by Warsawians; it was built while thousands of Poles were literally living in rubble, even sewers, of the city. It has been repurposed in recent years, and the new generation mostly accepts it. 3) Contemporary – Some of Europe's most capable and creative architects are practicing in modern Warsaw. Nowy Swiąt, the New City is a city of commerce, skyscrapers, great sidewalk cafes and shops, wide streets, alive with students.
Not all the city design efforts address buildings. Warsaw is known as "City of Parks", with a larger percentage devoted to its parks than any other city in Europe. Łazienki Park (Royal Baths Park, in English) originated with a nobleman, who had his manor there. Later it was transformed by King Stanisław August who invited prominent chefs fromworldwide to the Palace to prepare incredible State dinners for his friends. The Park is located in city center, 76 hectares, and is linked to Wilanow Palace, then kings main residence, by the Royal Route.
In the summer,Łazienki park is home to live Chopin concerts and, in the band shell, folkloric dancers of all ages, all free. Since we are in Warsaw in Golden Autumn, not summer, we will enjoy our Chopin fix at the interactive Chopin museum, housed in a former palace. Note: We will arrive in time for a Chopin concert in the Park your relaxed first day of the Corpus Christi Pilgrimage 2021.
If you have visited Warsaw in the past, I promise you it has changed. It is the most dynamic and commercial city in Poland, and if you haven't seen it for a few years, you will be shocked, wondering if it's the same city, even.
Some research ideas for you, as well as some trivia (my own impressions)
Search Polin Museum, many regard this as the top history of the Jews in Poland anywhere in the world.
Look up Warsaw Uprising and Warsaw Ghetto history
Trivea – Most 'workers' in Warsaw come from towns and villages all over Poland, so Friday afternoon there is a huge traffic jam leaving the city, then again on Sunday evening returning for work. Most bring a week's supply of Babcia's pierogi and other home made meals to sustain them.
Warsaw does not look like a Polish city. Streets are very wide, orderly like an American city, skyscrapers, wide sidewalks, very much a commercial center, but many excellent restaurants, and the parks are incredible.
I found it more difficult to make friends in Warsaw than in, say Kraków. It's just very busy and focused in business, is my impression.
One very interesting event each hour is the changing of the guard at the Tomb of the Unknown Soldier in Pidsulski Square (Victory Square)
Best place to shop: Old Town. For sit down dinner Nowy Swiąt. To Bar hop Praha. (These are neighborhoods, not businesses)
(Your questions or comments are invited. If they trigger information of interest to the group, we will publish in a future blog. When appropriate, we will respond to you directly.)
Zaprasamy!
Mike Richard, Living Kraków Cultural Pilgrimages
"Leading American Pilgrims to Poland Since 2005."